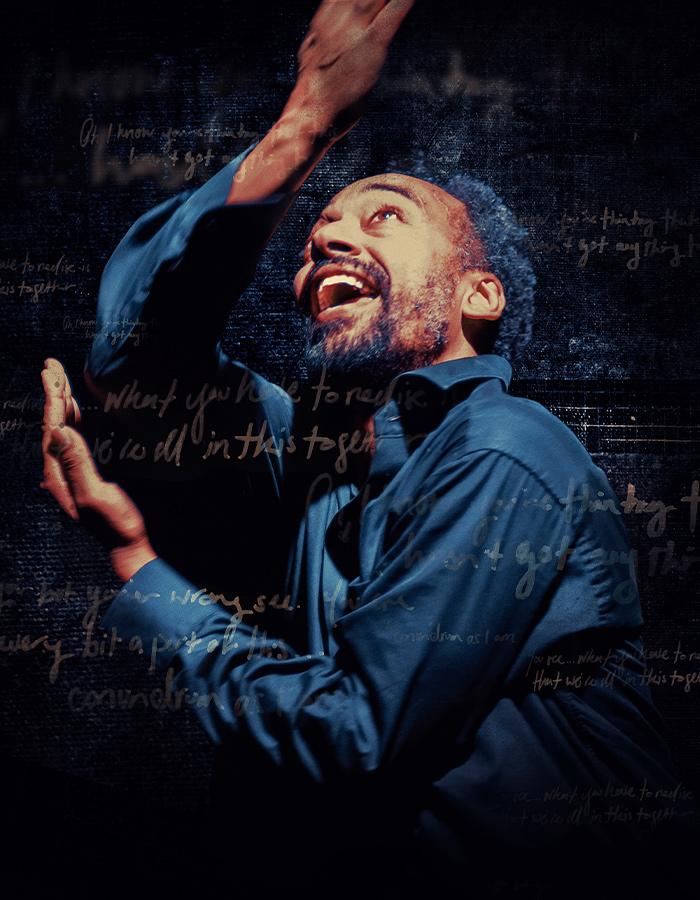 -
A Crying in the Wilderness Production in association with the Young Vic
Conundrum
Written & Directed by Paul Anthony Morris
Mon - Sat, 7.45pm
Thu & Sat matinees, 2.45pm
Running time: approx 75 mins (no interval)
Socially Distanced Performances:
Thu 27 Jan, 2.45 pm
Sat 29 Jan, 2.45 pm
Thu 3 Feb, 2.45 pm
The Maria
You are every bit a part of this…
conundrum as I am.
Growing up, Fidel's mum always told him he was a genius. Her genius child who was going to be a doctor. But his teachers had other ideas, and years later Fidel is left trying to piece together where it all went wrong.
Written and directed by Paul Anthony Morris, Conundrum is an evocative drama about one man's journey to self-acceptance in a world that rejects him. Anthony Ofoegbu (Barber Shop Chronicles) plays Fidel in this new play from Young Vic associate company Crying in the Wilderness.
Show Warnings
This show contains themes of racism, grief and bereavement, mental and physical illness, blood and violent images.
Image Credit: Sarah Hickson
Crying in the Wilderness Productions is supported using public funding by the National Lottery through Arts Council England, with additional generous support from the Royal Victoria Hall Foundation and Thrive London.
Conundrum is also supported by Black Thrive Global, Certain Blacks, Creative Elements, Honey Tongued Productions, NDT Broadgate, Nomad Creative Consultancy, A Million Freds, Adopt A Playwright Award and their generous team of crowdfunders and donors.
Writer & Director Paul Anthony Morris
Associate Director Angela Ekaette Michaels
Set Designer Sean Cavanagh
Lighting Designer Jack Weir
Movement Director & Choreographer Shane Shambhu
Photographer Sarah Hickson
Sound Designer & Composer Florian Bel
Operator & Programmer Lateef Salvador Oshinowo
Production Manager Sean Tomas Ford
Company Stage Manager Marie-Angelique St. Hill
Producer Emma Shaw
Press Anna Goodman
Marketing Lucy White
With Anthony Ofoegbu, Filip Krenus, Rachel Summers and Yara Liz
Audio Described performance: Thu 27 Jan, 2.45pm
Captioned performance: Sat 29 Jan, 2.45pm
Socially Distanced Performances:
Thu 27 Jan, 2.45 pm
Sat 29 Jan, 2.45 pm
Thu 3 Feb, 2.45 pm