How to sign up
To sign up to our Neighbourhood Theatre mailing list please email neighbourhoodtheatre@youngvic.org with your name, home address, a contact phone number, and your date of birth.
If you are unable to sign up using email and cannot pick up a form from our Box Office, please give us a call on 020 7922 2838.
Current Opportunities
Throughout the year we have many different opportunities for people in our local area to sign up to take part in workshops, discussions, events and productions.
Follow @yvtakingpart on twitter for all the latest news from the project.
Neighbourhood Theatre Ticket Scheme
Through our Neighbourhood Theatre Ticket Scheme we welcome individuals from our local area who are signed up to our mailing list to apply for up to 2 tickets for most of our YV productions. This may vary depending on the availability of tickets and the nature of the production itself.
Our funded ticket scheme enables us to share free and discounted tickets to Lambeth and Southwark residents.
Neighbourhood Theatre, formerly Two Boroughs, strives to build a local community around our theatre. Our friends and neighbours are really important to us. They are our beating heart, and we believe that if you live in one of our two boroughs, you should visit us at least once. If you don't like it, you never need to come back, but there's a chance that this will be the start of a lifelong friendship.
You don't need any previous experience of theatre to take part in any of our workshops or events. All you need to do is be curious, call us, email us, pop by, and sign up to whatever takes your fancy.
Neighbourhood Theatre is open to all residents of Lambeth or Southwark who are over the age of 25. Once registered you'll have the chance to come and see a show for free at the Young Vic as well as a range of free workshops, theatre club, projects and events throughout the year. We have long-term projects, day time workshops, evening events. We like to think there's something for everyone. Come along and see what you think.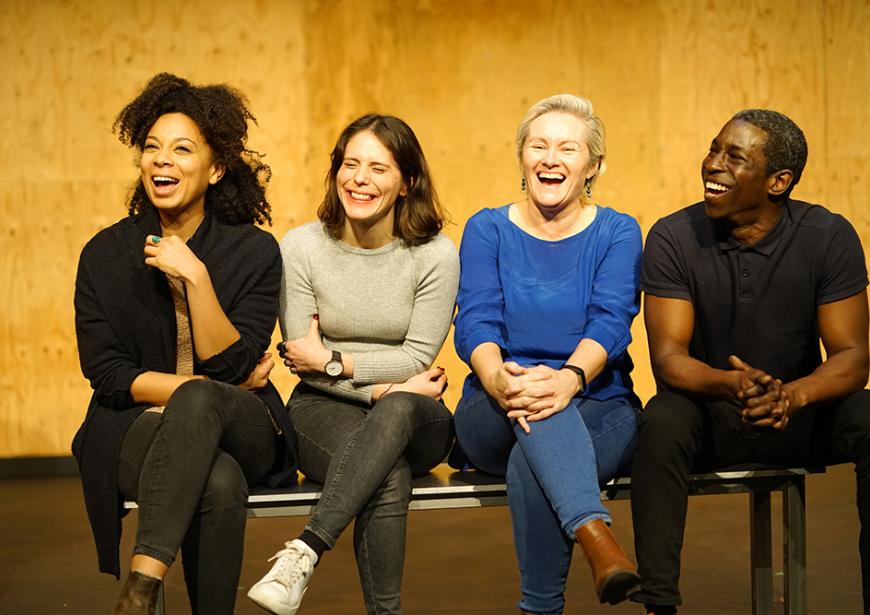 Past Production: American Dream 2.0 - trailer
Rehearsing Utopia (29', 2019). Directed, filmed and edited by Rosie Gist.
Following a public casting call, 14 Londoners embark on a transformative challenge: devising a new, community play at the Young Vic Theatre. Given the timely opportunity to create their dream country, what will this group of strangers imagine? Can a utopia be realised, if only inside the theatre's walls?
Made while studying on UCL's MA in Ethnographic & Documentary Film, Rehearsing Utopia explores the perspectives and experiences of the participants in Young Vic Taking Part's original production, American Dream: 2.0.
The Young Vic's Funded Ticket Scheme is supported by The Golsoncott Foundation.