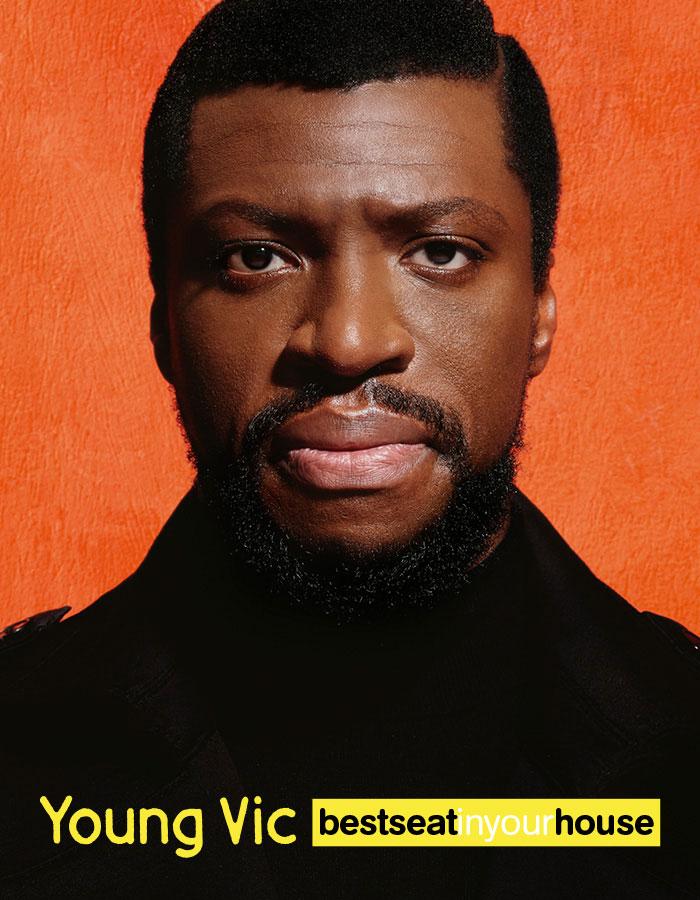 -
Mandela Broadcast
In proud partnership with the Mandela family. Co-produced with Nandi Mandela, Luvuyo Madasa, Shaun Hurwitz, Ronen Zekry, Greg Dean Borowsky, Shaun Borowsky and Brian & Dayna Lee
Music and Lyrics by Greg Dean Borowsky and Shaun Borowsky
Directed by Schele Williams
Mon-Sat, 7.30pm Greenwich Mean Time
Sat matinee, 2pm Greenwich Mean Time
Standard £15
Multi-viewer £20
Education group: up to 30 viewers £150
Education group: up to 20 viewers £100
Education group: up to 10 viewers £50
Booking for an education group? Call our Box Office on 020 7922 2922 to book one of our education group tickets.
Best Seat in Your House
Watch Mandela live online via our immersive, multi-camera broadcast, Best Seat in Your House, which is designed to give you optimal choice as you watch a live show. Enjoy the Director's Chair with our Best Seat in Your House player, where you can control multiple live camera streams. Alternatively, choose our Director's Cut option and sit back as we deliver a more traditional live edit of the show from the theatre to your screen. 
A new spirit has gripped our nation!
Together is where tomorrow's promise lies
A new musical that tells the story of Mandela the man and Mandela the movement. Infused with the rhythms and spirit of South Africa, Mandela shines a light on the South African people's courageous fight for their liberation. For 27 years, Mandela and his comrades sacrificed their freedom and their families paid the price. It is a story of determination, hope and how the world rallied to free him and his people. The production is presented in proud partnership with Nandi Mandela, Luvuyo Madasa and the Mandela family.
Show Warnings

Toggle

The show contains themes of racism and violence. The production also contains gun imagery and loud gunshot and bomb blast sound effects.
Best Seat in Your House is made in collaboration with YV Artistic Associate Duncan McLean.
The development of Best Seat in Your House was made possible with public support from the UK Government's Culture Recovery Fund. Additional generous support was provided by the Genesis Foundation's Genesis Kickstart Fund.
Photography by Emilio Madrid. Concept by Émilie Chen.
Book by Laiona Michelle
Music and Lyrics by Greg Dean Borowsky & Shaun Borowsky
Additional Music & Lyrics Bongi Duma
Director Schele Williams
Choreographer Gregory Maqoma
Set designer Hannah Beachler
Costume designer Fay Fullerton
Lighting designer Jon Clark
Sound designer Paul Gatehouse
Projection and Video Designer Akhila Krishnan
Orchestrator Sam Young
Musical Supervisor Benjamin Kwasi Burrell
Musical Director Sean Mayes
Casting Directors Pippa Ailion CDG & Natalie Gallacher CDG
Associate Choreographer Dickson Mbi
Associate Set Designer Debbie Duru
Associate Musical Director Sam Young
Associate Casting Director Richard Johnston
Assistant Director Becca Chadder
Best Seat in Your House Project Lead Duncan McLean
With Gregory Armand, Zion Battles, Earl Carpenter, Stewart Clarke, Hanna Dimtsu, Danielle Fiamanya, Lerato Gwebu, Prudence Jezile, Akmed Junior Khemalai, Michael Luwoye, Blue Makwana, Kayleigh McKnight, Posi Morakinyo, Sneziey Msomi, Ryan O'Donnell, Adam Pearce, Shiv Rabheru, Will Richardson, Leanne Robinson and Ntsikelelo Nicholas Vani, with further casting to be announced.
There is captioning, audio description and British Sign Language (BSL) provided for every live broadcast of Mandela.